[69]
Lady Bird tells the story of Christine "Lady Bird" McPherson (Saoirse Ronan) as she maneuvers her way through the beloved high school experience and explores her various personal relationships with family, friends and college. The film also stars Laurie Metcalf, Tracy Letts, Lucas Hedges, Timothée Chalamet, Beanie Feldstein, Stephen McKinley Henderson, and Lois Smith and is the directorial debut of Greta Gerwig.
My Thoughts On The Characters And Story
There are certain films where you find yourself immersed entirely with everything occurring on screen and when it concludes, you're left genuinely disappointed because you enjoyed it that much and are craving for more – Lady Bird is one of those movies. 
From the talented mind of actress and screenwriter Greta Gerwig, Lady Bird starts at a high and continues through its 94 minute run time, providing witty quip after another and depicting compelling characters who are delightfully fleshed out. With a coming-of-age story set in a high school, filmmakers always run the risk of featuring tropey teen after stereotypical mean girl in a universe of perpetual eye-rolling courtesy of the out-of-touch adults who are dopey because the script calls for it. This film encompasses what I love about certain films of the genre (particularly Mean Girls, Napoleon Dynamite and The Edge Of Seventeen) and adds a new perspective through the eyes of Lady Bird (the name was given to her by her, in case you were wondering). 
Referring to Lady Bird as simply "enjoyable" is doing it a major disservice. It encompasses virtually everything I want to see in this kind of movie: compelling characters, a simple story, witty dialogue, killer soundtrack/score and an overall feeling of… just… something. Saoirse Ronan is perfect in this role. She works so unbelievably well with every single person in the film whether they are a vital component of it or the extraest of extras. Her camaraderie with Beanie Feldstein's "Julie" and Feldstein's incredible delivery of her sharp dialogue was delightful to watch. Laurie Metcalf gives a heartbreakingly spectacular performance as the matriarch of the McPherson household. There were a number of mother/daughter instances that resonated with me so hard. Lest we forget Tracy Letts' portrayal of the remarkably sweet Larry McPherson. Lucas Hedges and this year's breakout star of Call Me By Your Name, Timothée Chalamet, provided some stellar performances as well.
I also thoroughly appreciated the lack of monstrously exaggerated sequences that aren't within the realm of belief. The moments of conflict feel real because these characters are so well written, you genuinely believe and sympathize with what has transpired. One particular moment actually had me cover my eyes because I was terrified at what was going to happen (it involved a friend telling someone they were coming over).
"Thank you, Greta Gerwig, for terrifying me more than many horror films can accomplish."
I placed myself in the respective person's shoes and wanted to shove my head into a computer because the embarrassment was overwhelming and it honestly wasn't that big of a deal – That is what teenagehood is. Man, that's what being a human is but particularly when you're on the cusp of adulthood and want nothing more than to be accepted amongst your peers so the little white lies come out. Thank you, Greta Gerwig, for terrifying me more than many horror films can accomplish. 
How Were The Other Aspects Of Lady Bird?
Lady Bird's 2002 setting provides an interesting backdrop as there is a sense of simplicity to it since we're still a few years away from total technological control, however this is a post-9/11 world. Like, a few months post. The societal innocence we became accustomed to was shattered with heightened security beginning to be implemented and the barrage of bombings occurring in the Middle East. The insanity the world was experiencing at the time is referenced in the quiet, sereneness that is Lady Bird.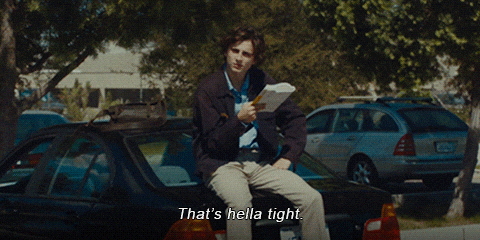 For every threat of mind controlling chips in cell phones, there is a pool party where former *NSYNC member, Justin Timberlake's modern classic "Cry Me A River" plays in the background. It was the best of times, it was the worst of times. There isn't anyone I'd want to experience it with (again) than Lady Bird. 
The film's gorgeous-looking aesthetic is also positively wondrous. There truly isn't a dull scene throughout its entire duration, I was genuinely enthralled with not only what the characters were saying but the mesmerizing cinematography that accompanied what was on screen. I had no idea what I was expecting with Lady Bird and what I got out of it was a phenomenally entertaining film that spoke to me entirely. ---
If you're looking for a sharply written coming-of-age film with characters you actually care about, check out Lady Bird.
Lady Bird receives a coveted 5/5 Matt Damon heads.
featured image credit: a24